Des vagues nocturnes s'abattent sur un littoral préromantique figé. En avant de l'écran plane une fantomatique bouée.
---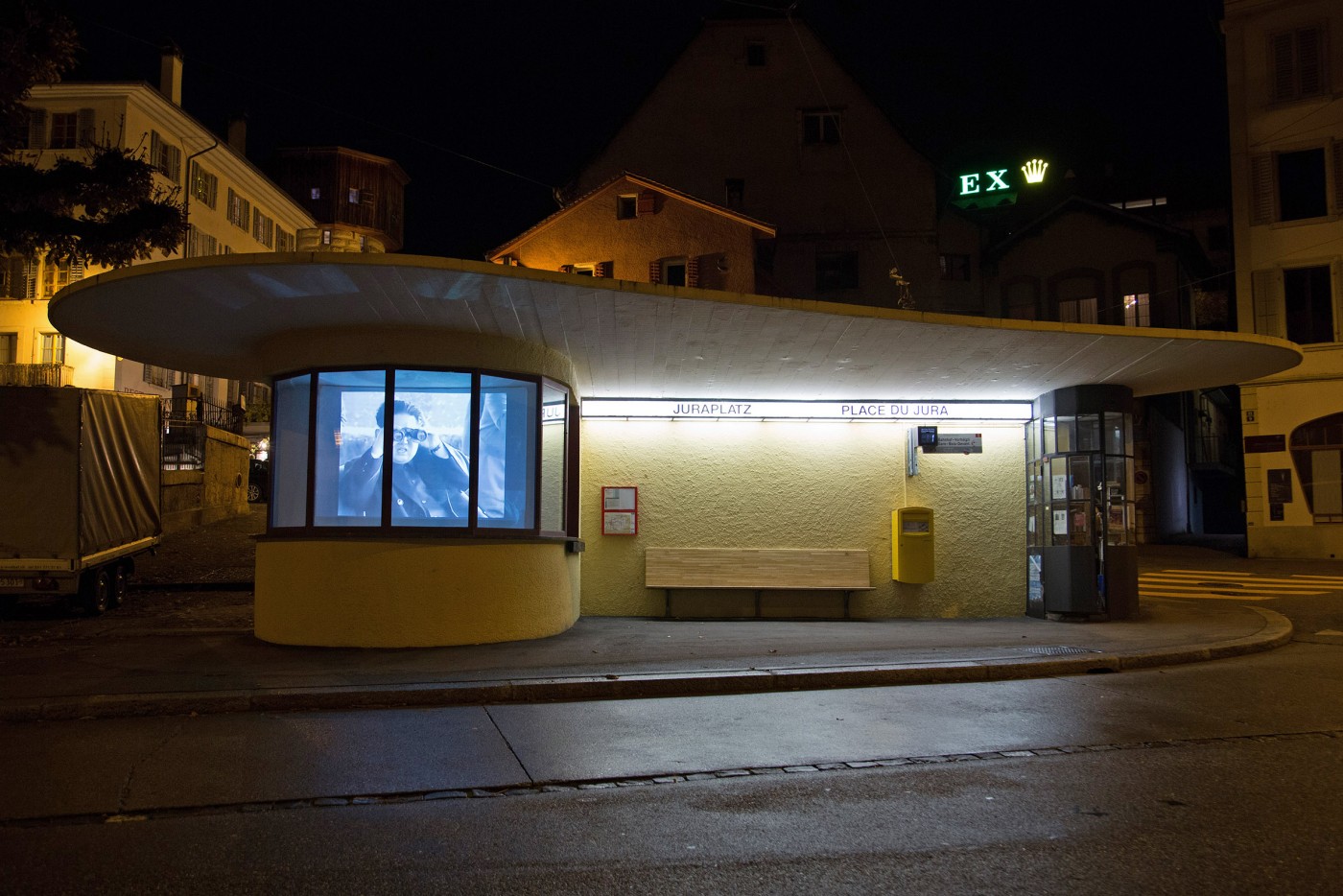 "Neutral Nations" is a multimedia installation by the artist Enrique Muñoz García based on a collection of found video footage: the presidents and military leaders of various countries look through binoculars into the DMZ between the two Koreas. A binocular symoblizes espionage, control, and military use in general. In this video the two Koreas engage in mutual observation, a process that marks the complex relationship between the two countries that originates from the 1950s.
The term "Neutral Nations" was defined as those nations whose combat forces did not participate in the hostilities in Korea. Switzerland is an active part of this supervisory commission.
---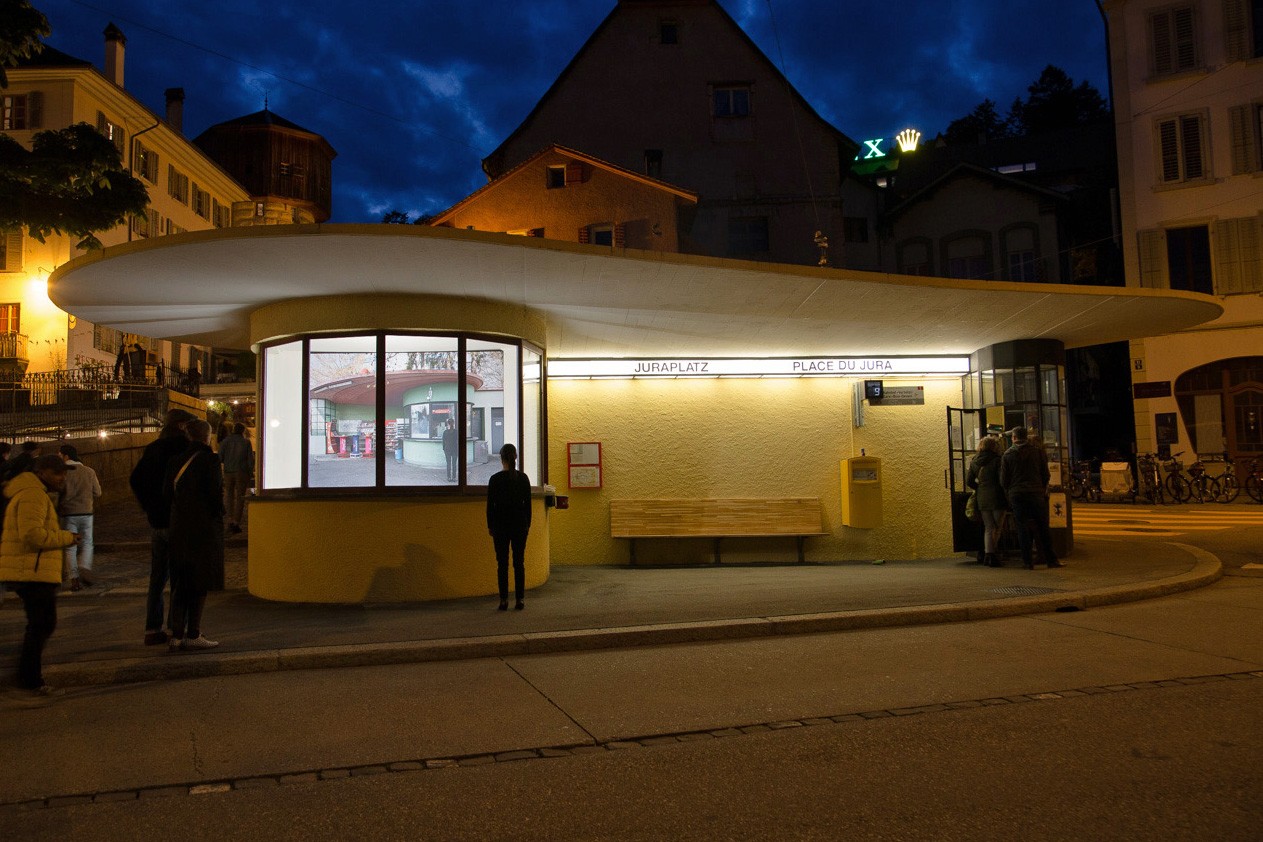 Luzia Hürzeler's in situ installation examines the relationship between image and object and between an object and its double, and also plays on the internal and the external. This work, which was created especially for the festival questions the porosity between oneself and the other, and between illusion and reality. The Juraplatz art space is set in relation to its "double" at the Brühlplatz and offers viewers an exhibition dispositive that mixes photographie and architecture.
Biel/Bienne Festival of Photography
Curated by Sarah Girard
The 23rd edition of the Biel/Bienne Festival of Photography will explore the theme of overflow, both real and virtual, in today's society. On the internet, a "flood" is an action that inundates the network and saturates digital forums, rendering them unusable. Vast quantities of information are shared every day by more than four billion internet users, whether they are aware of it or not. This constant stream of passing data has an impact on society that cannot be fully grasped, but it also presents opportunities for both individual and social development.
---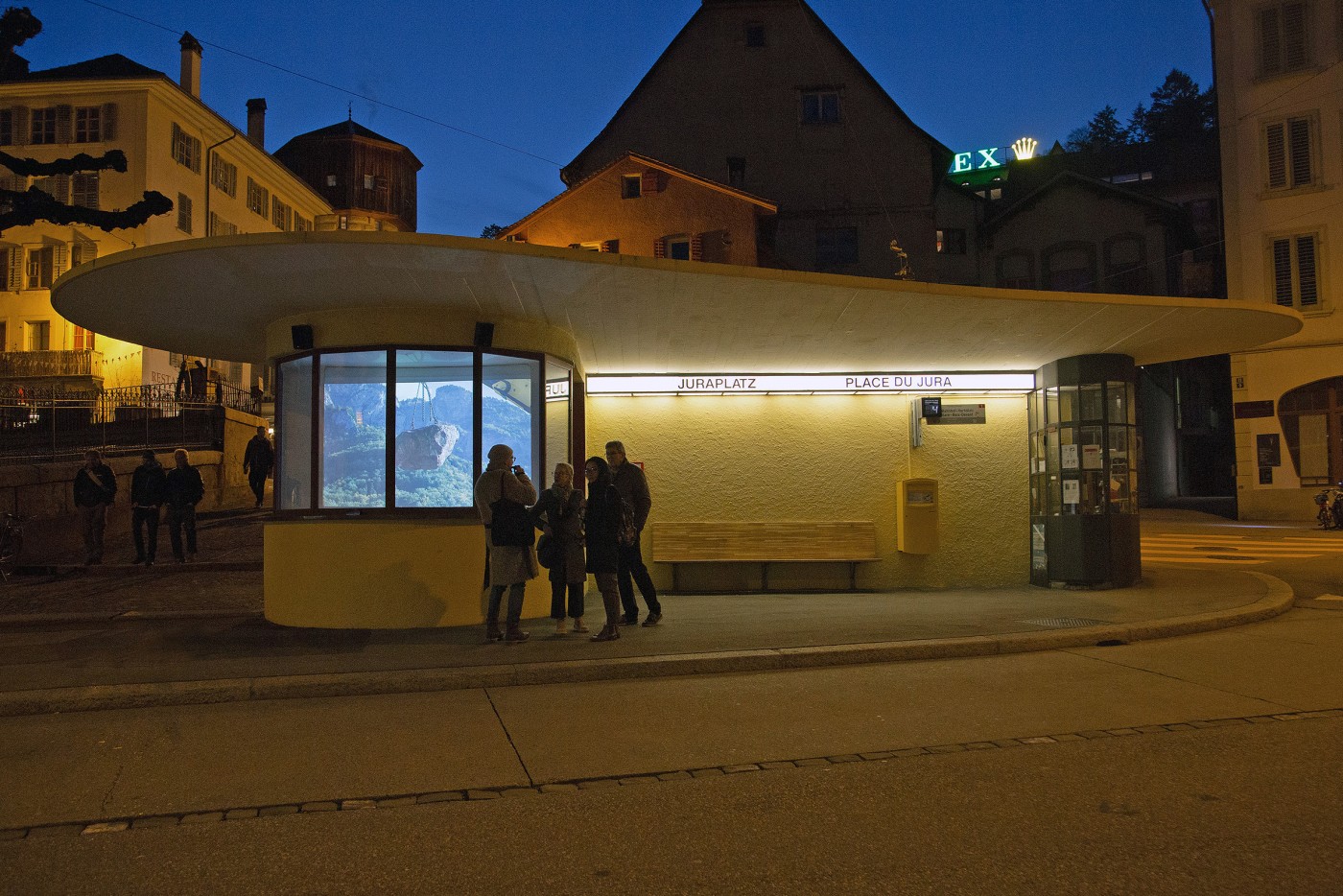 TEK, TO und NIK sind drei naturbelassene, sechs bis elf Tonnen schwere Verrucano-Steine aus dem UNESCO-Welterbe Tektonikarena Sardona, das letztes Jahr sein 10-jähriges Jubiläum feierte.
TEK steht für Glarus, TO repräsentiert St.Gallen und NIK verkörpert Graubünden - über alle diese Kantone erstreckt sich das Welterbe.
---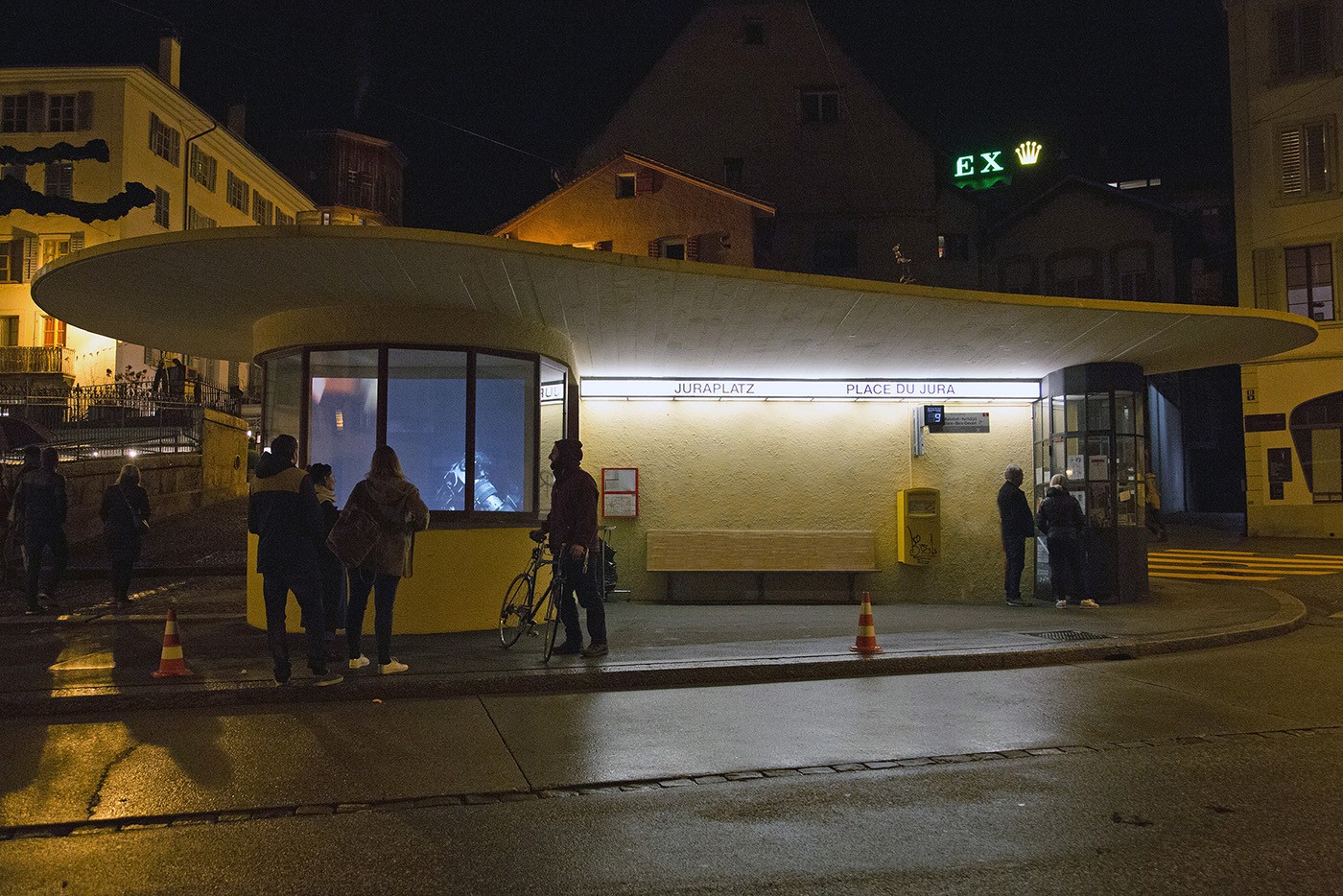 For 130 years since its invention, the camera has not been a neutral tool in my relationship with the other. My SLR camera with function built-in video creates distance. It does not allow space for empathy. My relationship with the other is technologically hindered by this tool. My camera is black, phallic and shaped like a gun. The technical possibilities in terms of efficiency, design and image production are the main appealing qualities for the user. However, none of its features encourages co-creation between the operator and the other. It does not technically allow them to collaborate.
---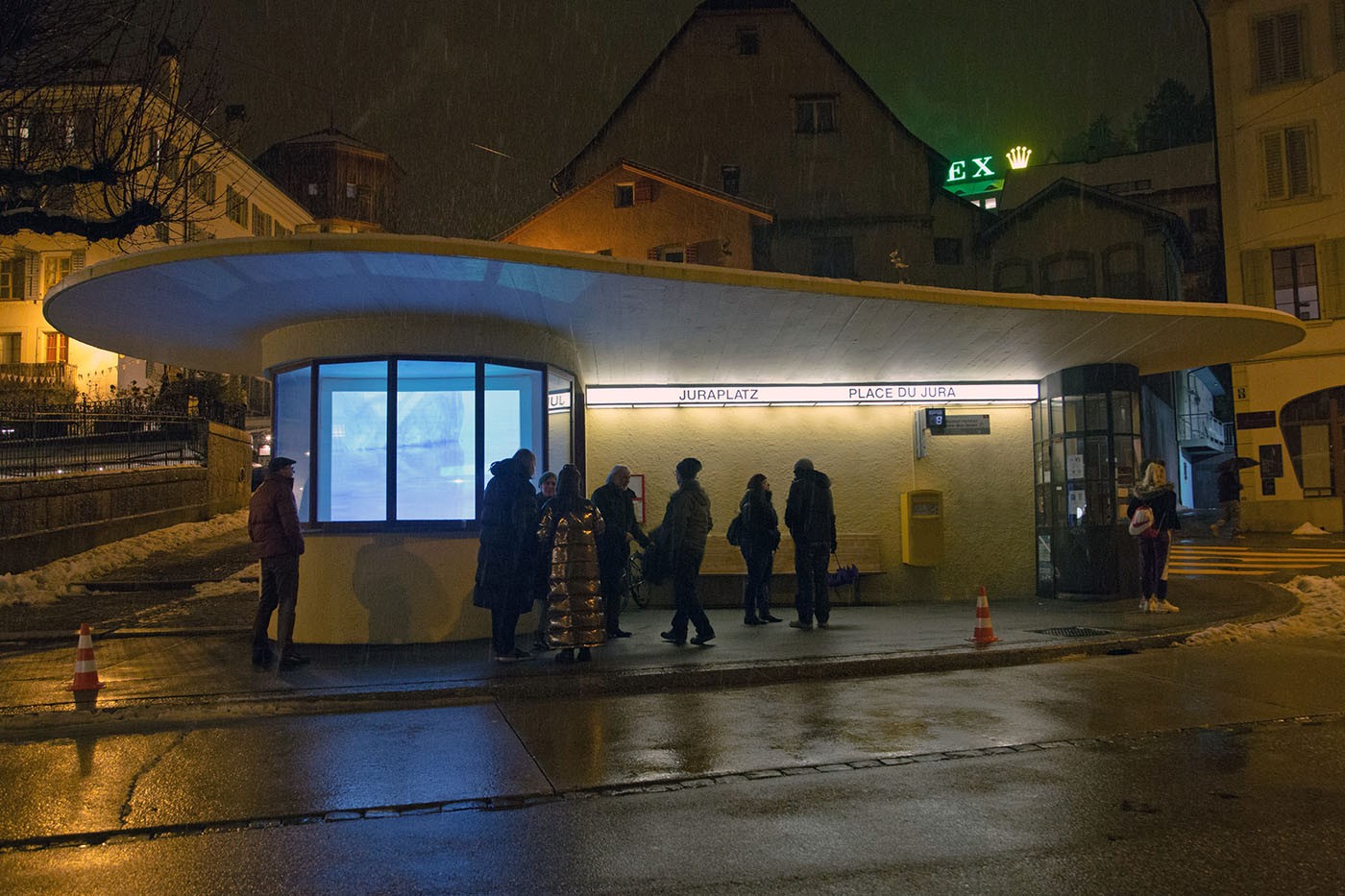 Wie ein mächtiger Eisberg treibt eine aus transparentem PET-Material zusammengeklebte Struktur auf dem Wasser. Begleitet von mystischem Sirenengesang der Innerrhoderin Karin Streule, folgt die Kamera, knapp über und unter der Wasseroberfläche, den Windungen des Polyesterkonstruktes. Wie die mythischen Mischwesen mit göttlicher Stimme die Seefahrer in die Klippen lockten und scheitern liessen, scheinen die sphärischen Klänge in der Videoarbeit Seeplastik (2010) die Gefahren heutiger Umweltschadstoffe und das Ungleichgewicht des ökologischen Systems zu beschwören.
---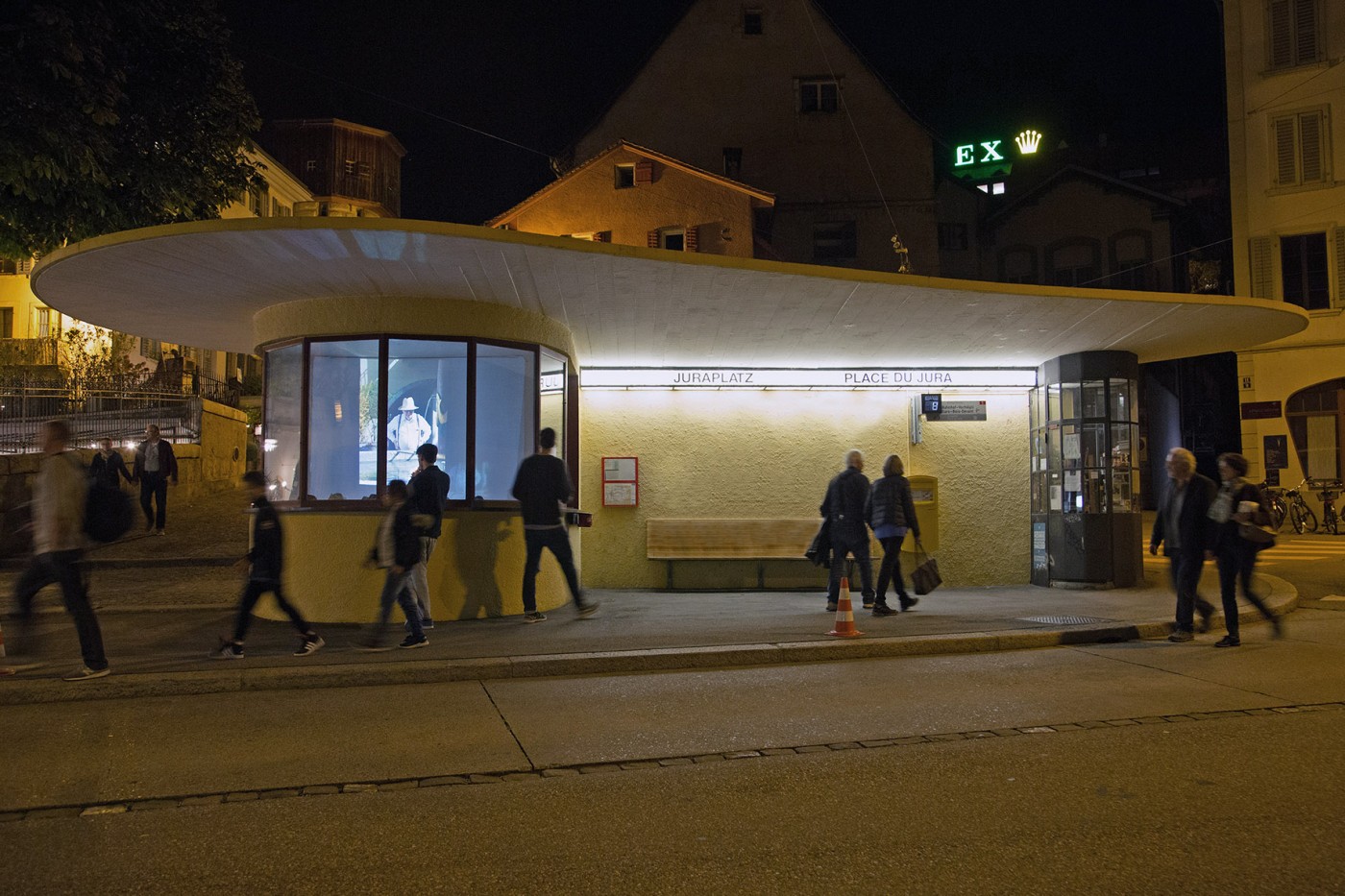 Hut ab ist eine Hommage der Galerie Juraplatz an den Bieler Künstler und jahrelangen Visarte-Präsidenten Robert Schüll. Die Installation beinhaltet gegen Tausend Fotos, in einem Videofilm animiert, sowie 12 Hüte von Robert Schüll, die Hildegard Lanz für die Ausstellung zur Verfügung gestellt hat.
---
Salt—a necessity for everyone—is often ignored by most people. It is frequently overlooked, as a part of the whole meal, an element to which people don't give much thought. It is hidden behind the food, hidden within it. It has trouble attracting our attention, and it wouldn't be counted amongst the spiritual necessities of mankind. Only occasionally when salt runs out, do people say: "Oh, it's time to buy some salt." Then we find "A Packet of Salt." The process of making and transporting the salt, the producers, people and factory either have something or nothing to do with it. Under the bleaching rays of the sun, in the silence of the lens, people slowly approach and pass by the camera, without saying a word.
---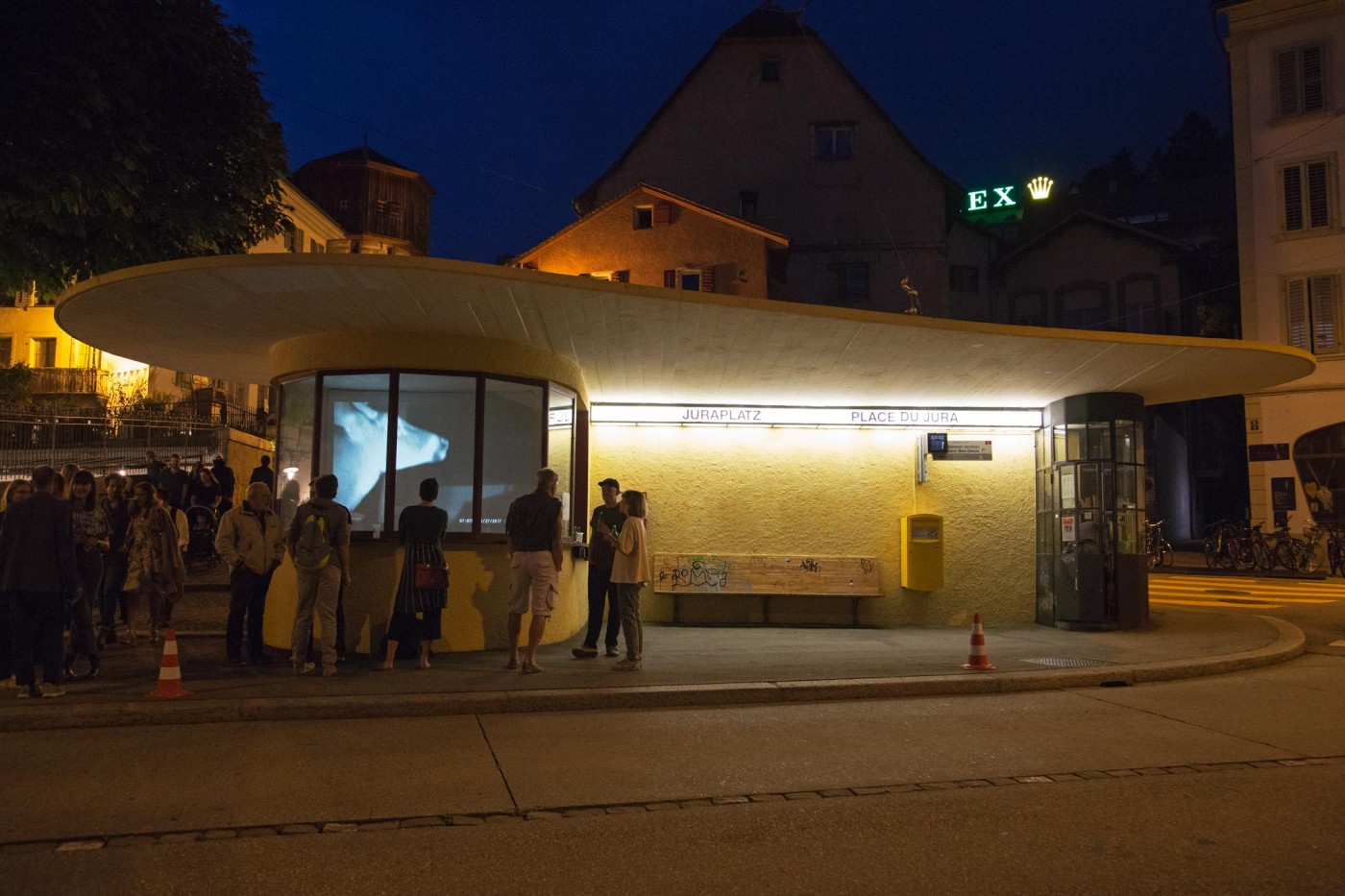 Hunter, I've taken your memory presents a selection of motion sensor captured, plus infrared night view images, from the original contents of an unknown bowhunter's SD memory card.
---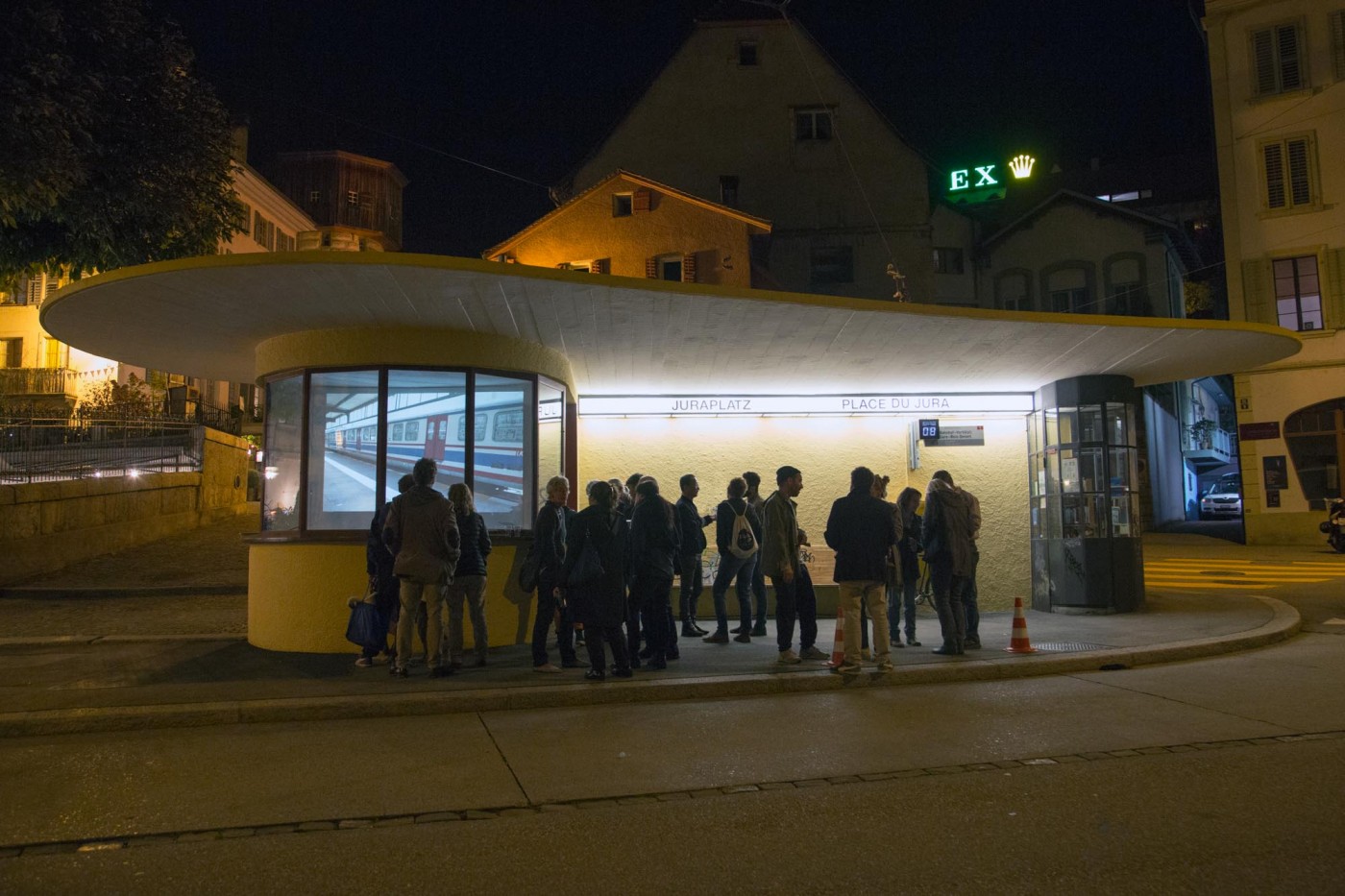 Taste of Tea is an art project elaborated within the International Interdisciplinary Environmental Art Symposium, named Nine Dragon Heads.
Nine Dragon Heads was initiated in South Korea in response to the destruction of an important historical site in 1996. Over twenty years it has evolved into an open interdisciplinary platform where artists from all over the world implement individual and collaborative art projects; related to universal humanitarian, environmental and cultural issues. Working in a framework of thematic and multimedia formats Nine Dragon Heads unites artists from all five continents.
---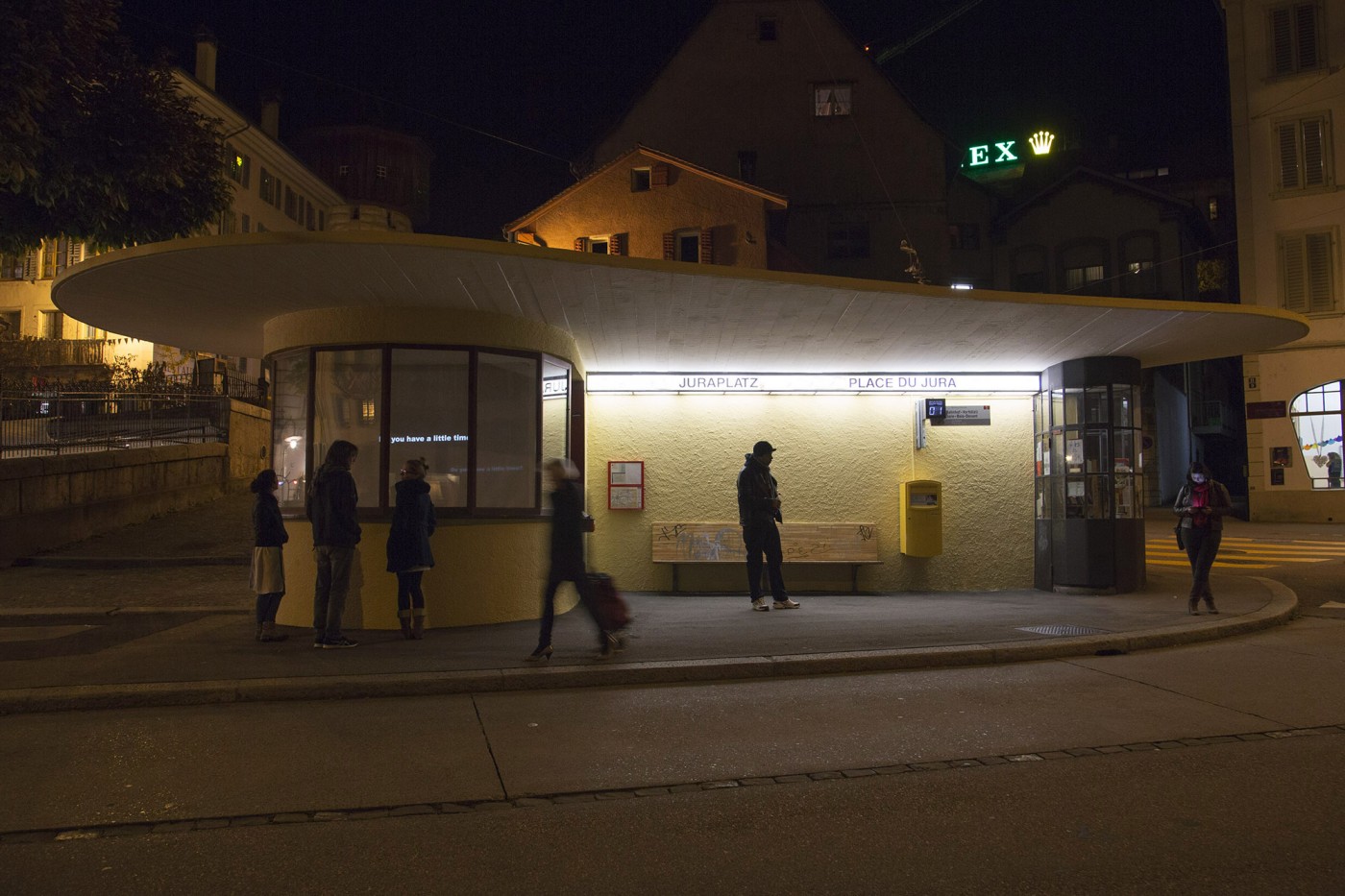 The question festival in the old town of Biel brings life's big questions to the streets. For 12 hours, the "Night of the thousand questions" provides a platform for reflection, conversation, listening and curiosity.
---
The swiss artist susanne muller (Prêles, Berlin) will present her latest project: ~ flow velocity ~ flowing through the old town (la suze bienne).
---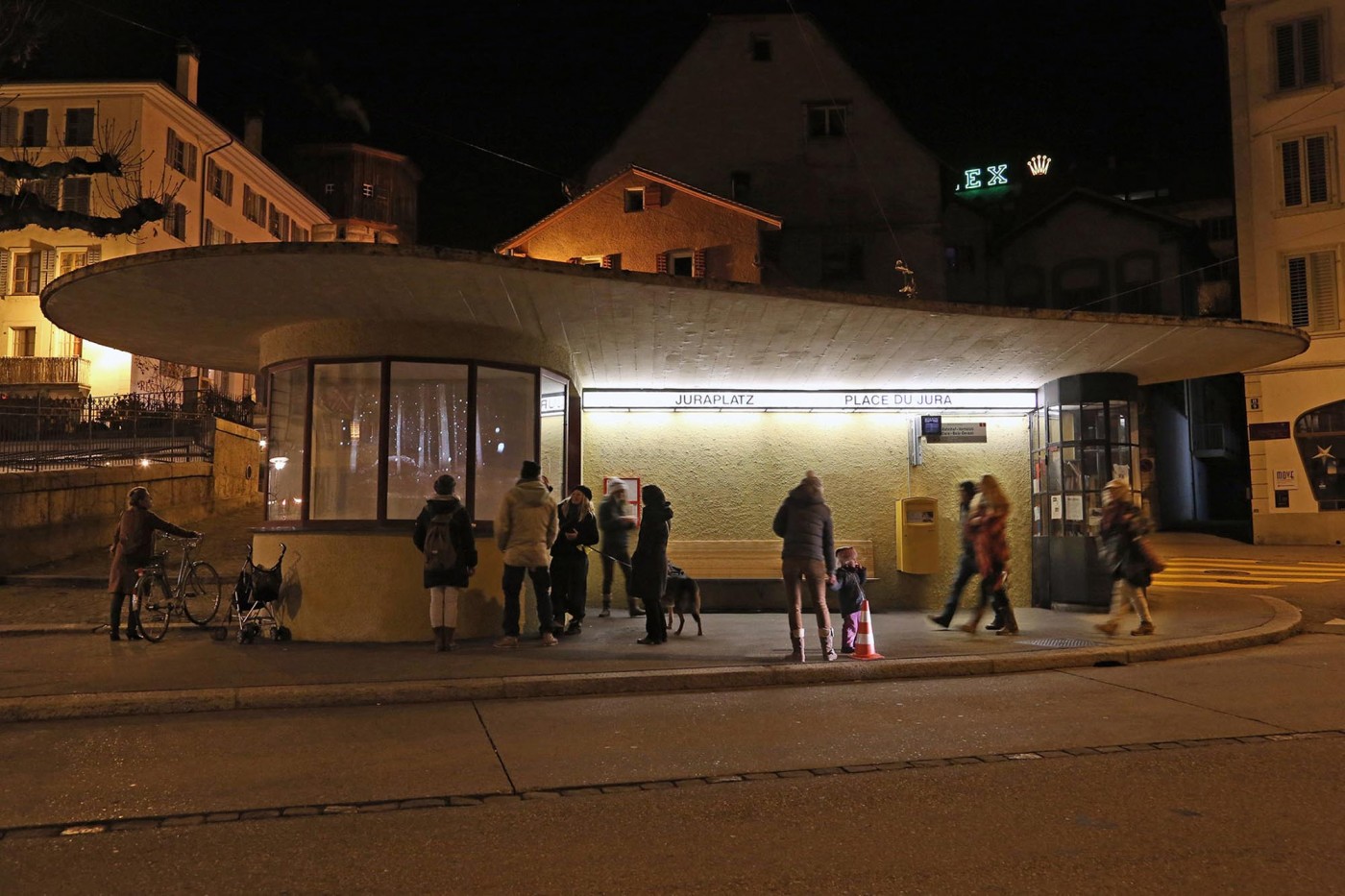 This exhibition marks the culmination of the second edition of the Life Framer photography award. It features work from 24 winning photographers along with selected honorary mentions, each chosen by a globally-acclaimed jury across twelve diverse themes exploring 'Life'.
Along with physical gallery exhibitions in London, Paris and Los Angeles, Life Framer travels to Switzerland for a special pop-up digital exhibition at Juraplatz.
---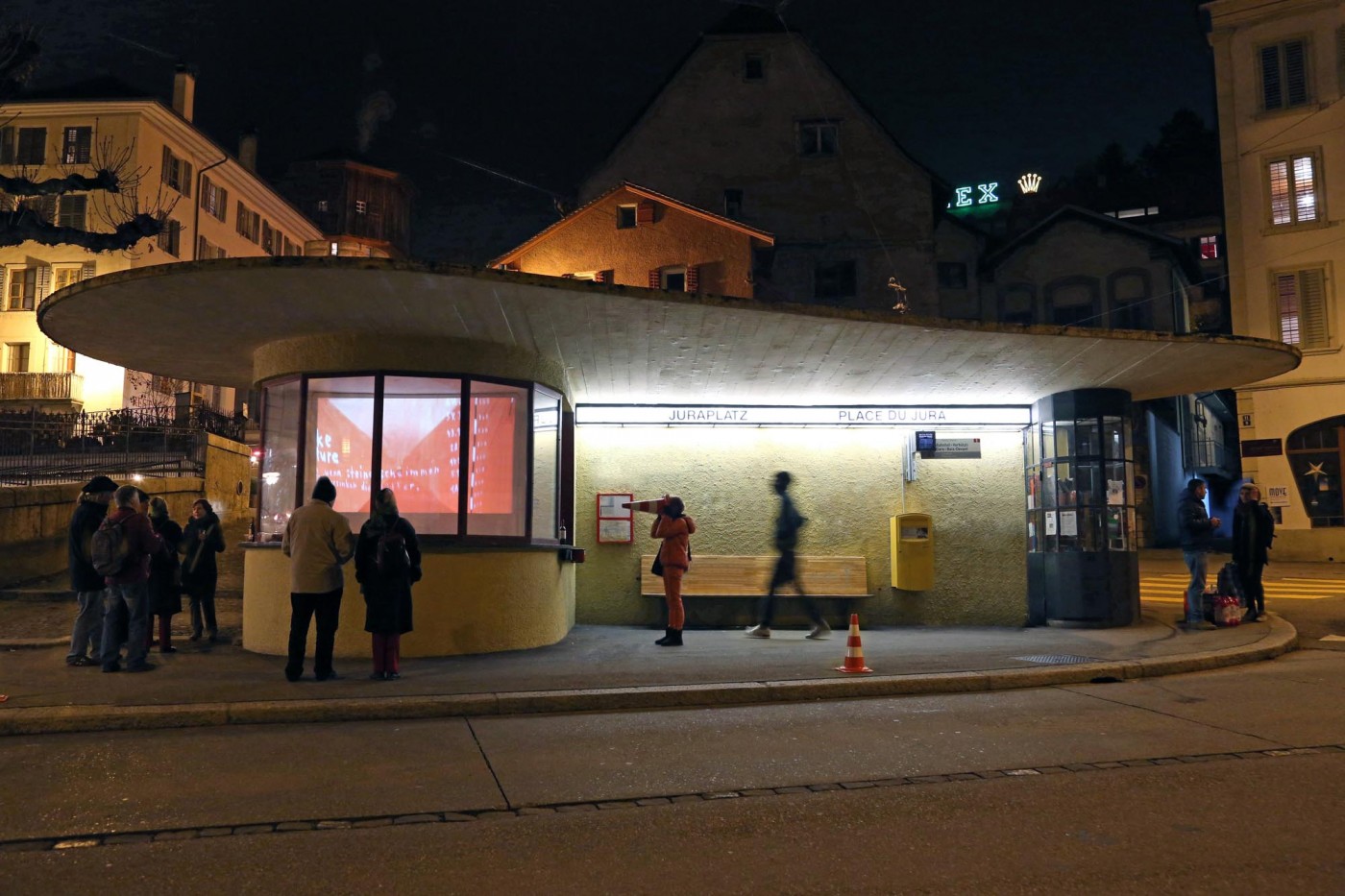 Jump into the Unknown", an official collateral event of the 56th Biennale di Venezia, presents the works of 40 international artists and marks the 20th anniversary of the International Environmental Art Symposium - Nine Dragon Heads.
---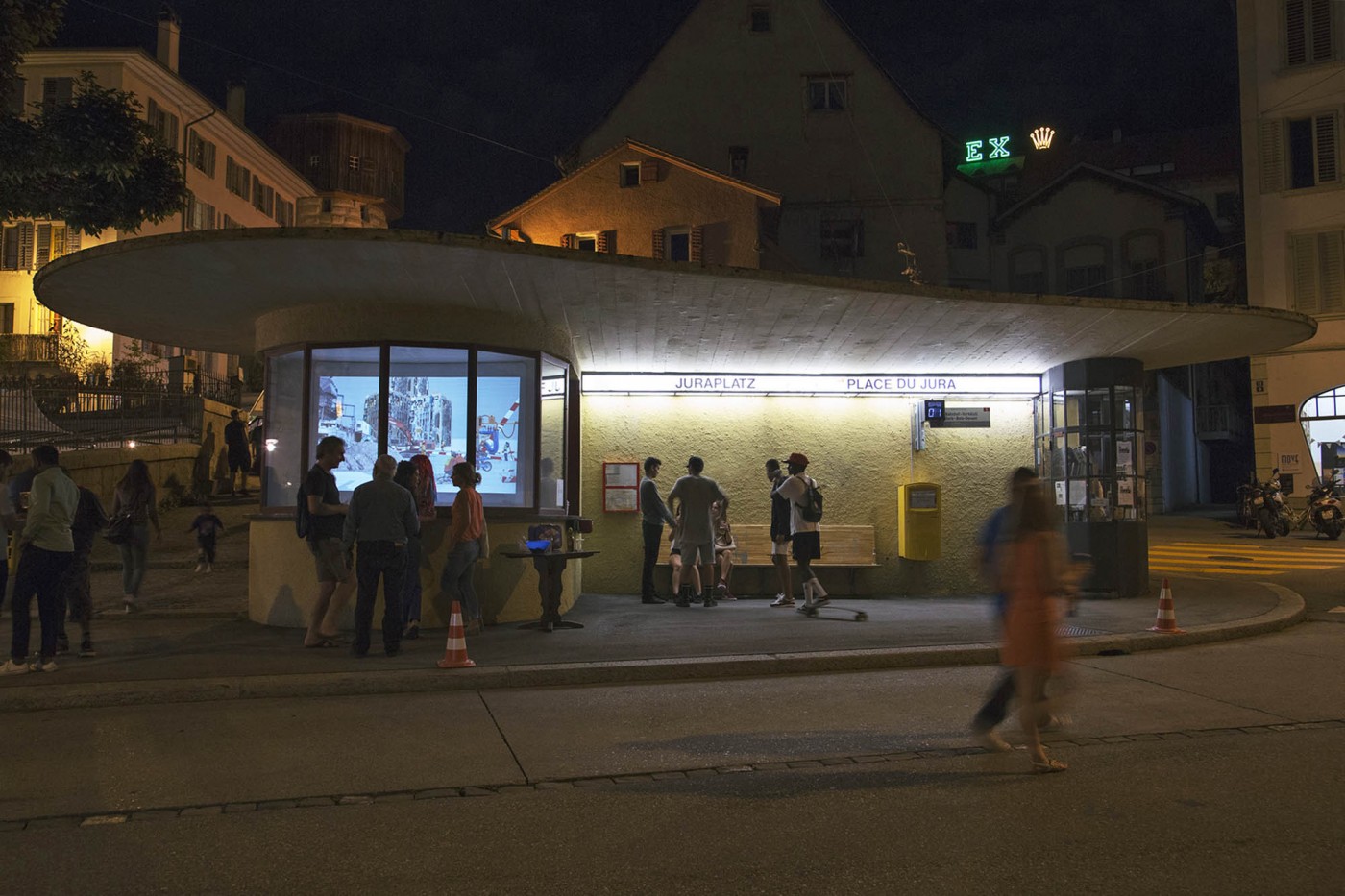 The scene shows an endless camera shot through a fictional building place. The workers, machines and other image elements were filmed in Dubai, New York, Paris, Beijing, Johannesburg, London and in Switzerland. They form a landscape of real buildings and enlarged computer components.
---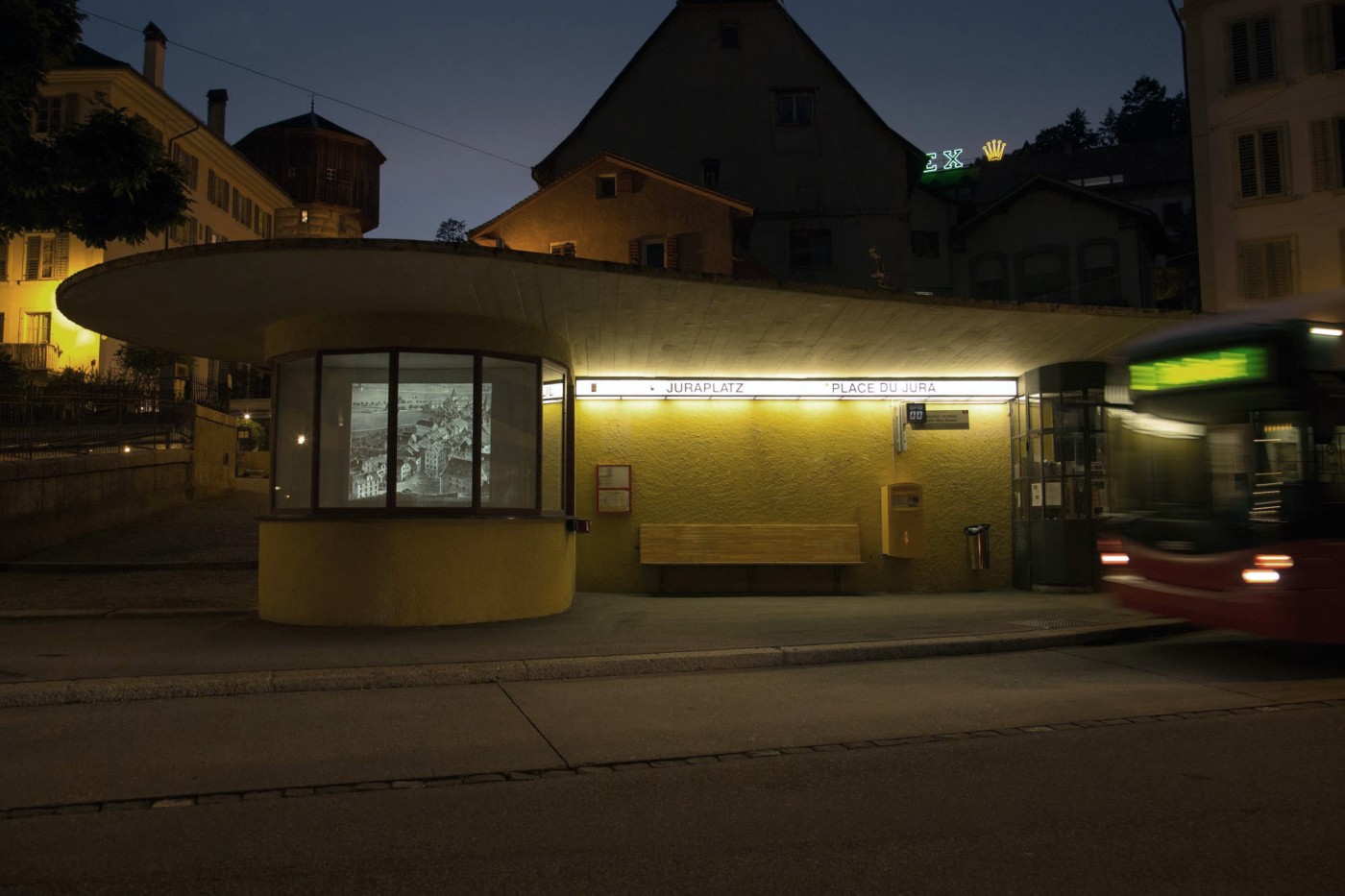 Juraplatz shows the history of the Juraplatz / Place du Jura in Biel/Bienne. Out of 15 selected documents and photos, Dr. Phil. Margrit Wick-Werder describes the history and development of the Juraplatz in the past 370 years.
---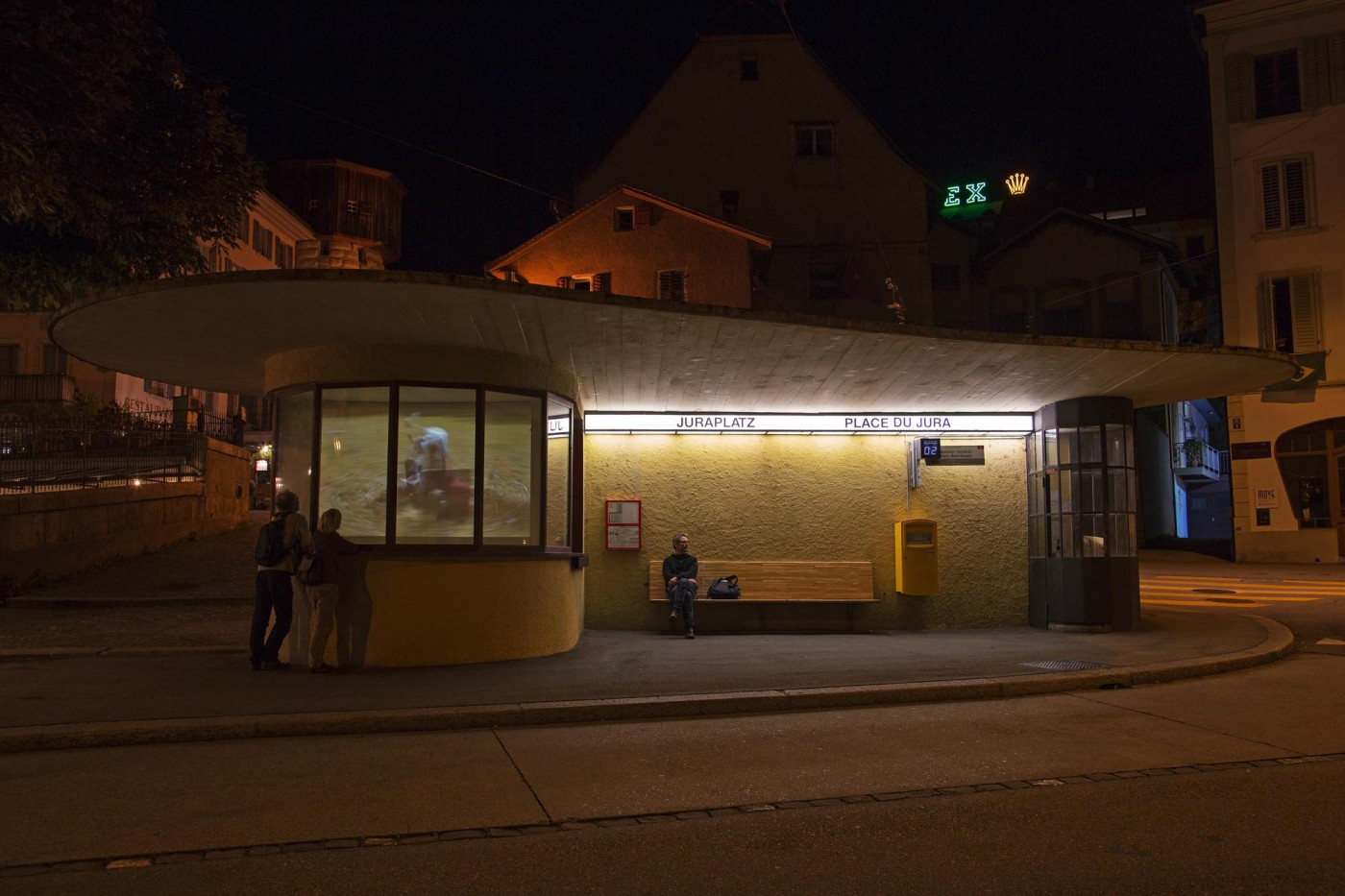 In the Experimental film "gated community" from Začek/Köppl, there are two bordered perimeters, one in the inside and one on the outside. Within these fields, the continues orbiting of a Camera, both Protagonists explore - temporarily supported by a Donkey and two Dogs - with performance and film techniques the constitution of the individual, in light of the limitations.
---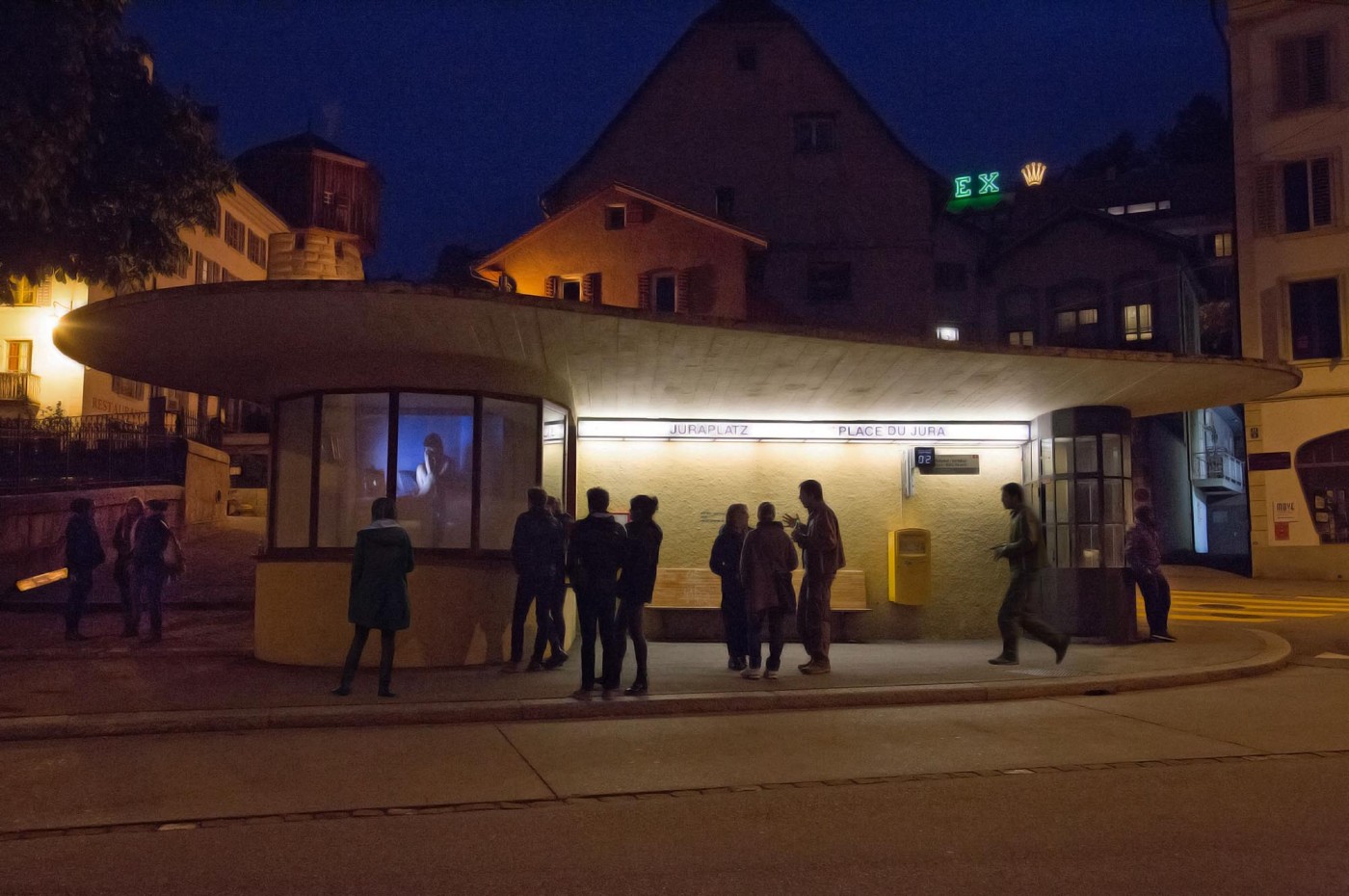 The Life Framer Award Show is the culmination of the first edition of the Life Framer photography award. Following a successful exhibition at theprintspace in the heart of London, UK, the award show travels to Switzerland, for a special pop-up exhibition at Juraplatz.
---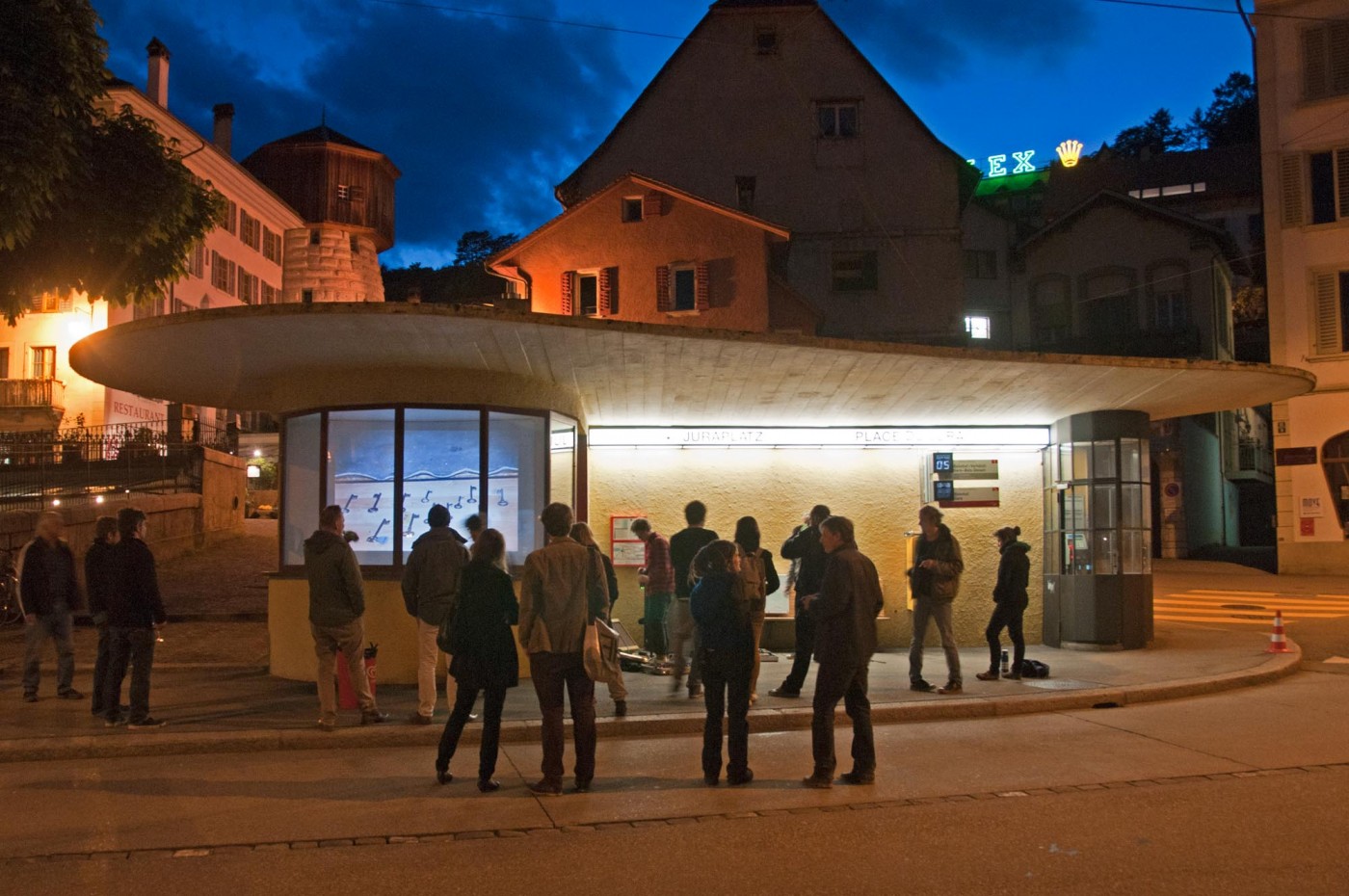 A film about a house that lives, loves, shifts and self-destructs. A house and its objects, a house and the materials of which it is made.
---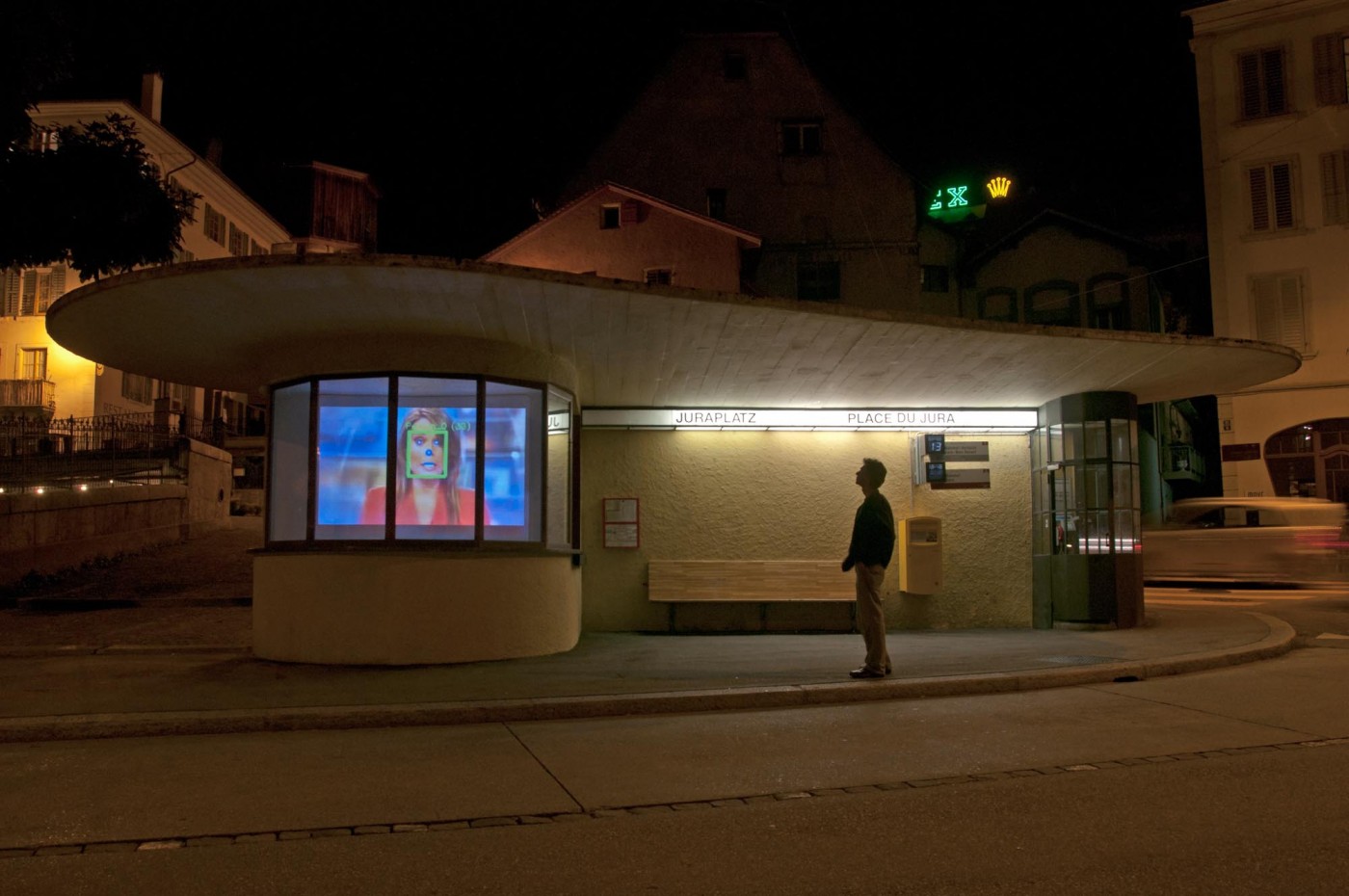 Cameras that recognise moving people and vehicles, facial recognition software, traffic measuring and guidance systems, cameras that can read traffic signs, and motion capture technology: our everyday life is now filled with image recognition technologies like these. Such systems observe, analyse and generate images of our behaviour, representing everyday scenes in fragmentary and disconcerting ways: often in simple and garishly coloured graphics that jump and flit around the screen. Traffic flow is depicted as arrows and faces as ovals, while lines trace out human motion through public spaces. The precise numbering of hundreds of objects and the tracing of human motion are uncanny and somewhat disturbing.
---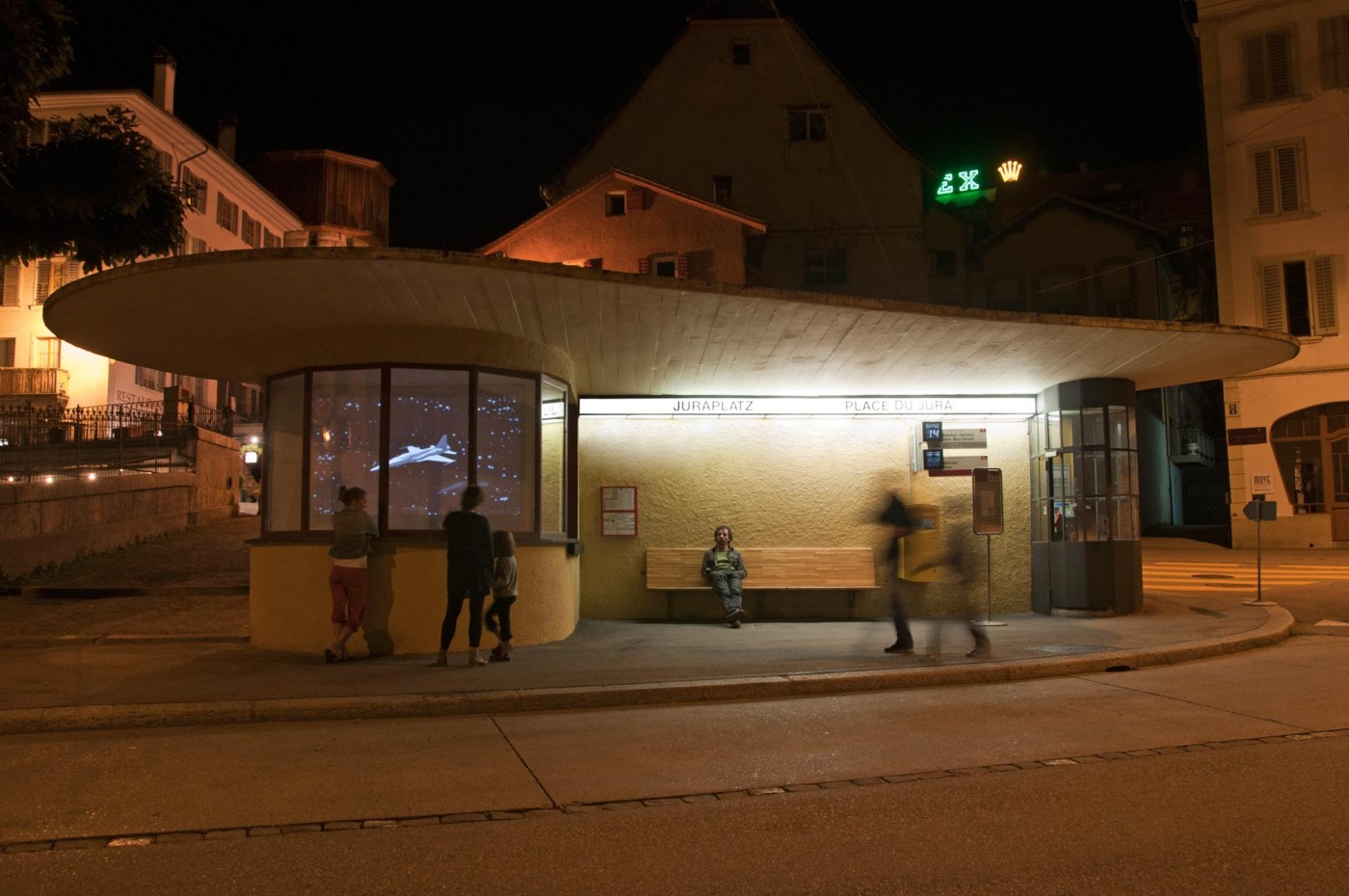 The serie Pin Zhuang, which means "dismantled" or "puzzle" in Chinese, was inspired by the 2001 Hainan Island incident, in which an American spy plane crashed on Chinese soil. After extensive negotiations the EP-3 aircraft was returned to the U.S. after being completely dismantled.
---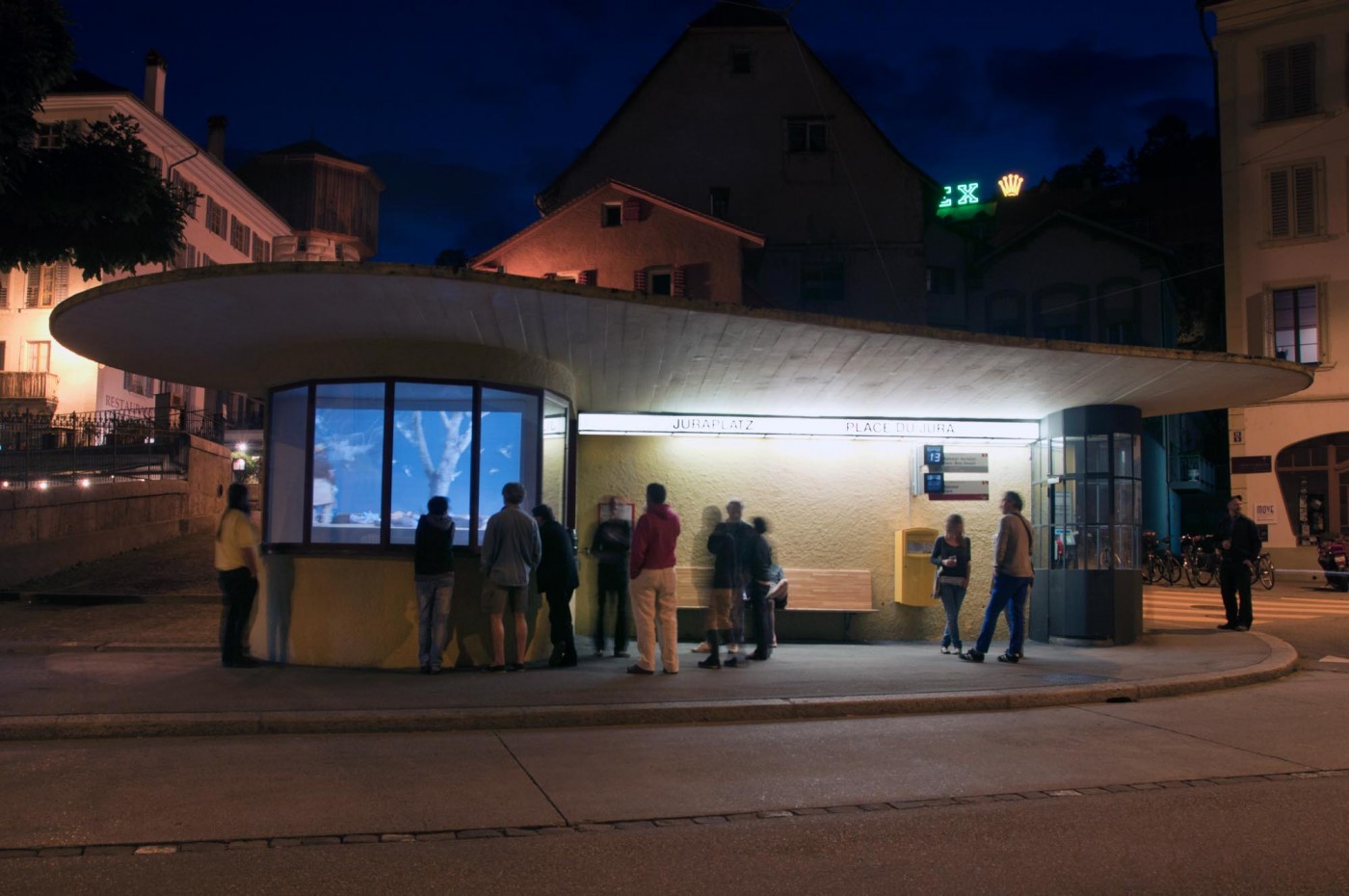 An endless camera shot in a park in Johannesburg – it is noon, autumn; a group of people lies nearly motionless under a tree whilst others go about their everyday doings. White birds hover, without orientation and yet with wings ceaselessly fluttering, above the group. The idyllic midday nap of the sleepers stands in stark contrast to thoughts of unemployment, vanity and death.
---
A collaborative work by students LN and JK with Bruce Allan at a Nine Dragon Heads workshop organised at the School for Graphic Design of the District in Biel/Bienne between NDH artists and students. After presentations from both sides, groups consisting of one Nine Dragon Head and two students combined to realise one minute films.
---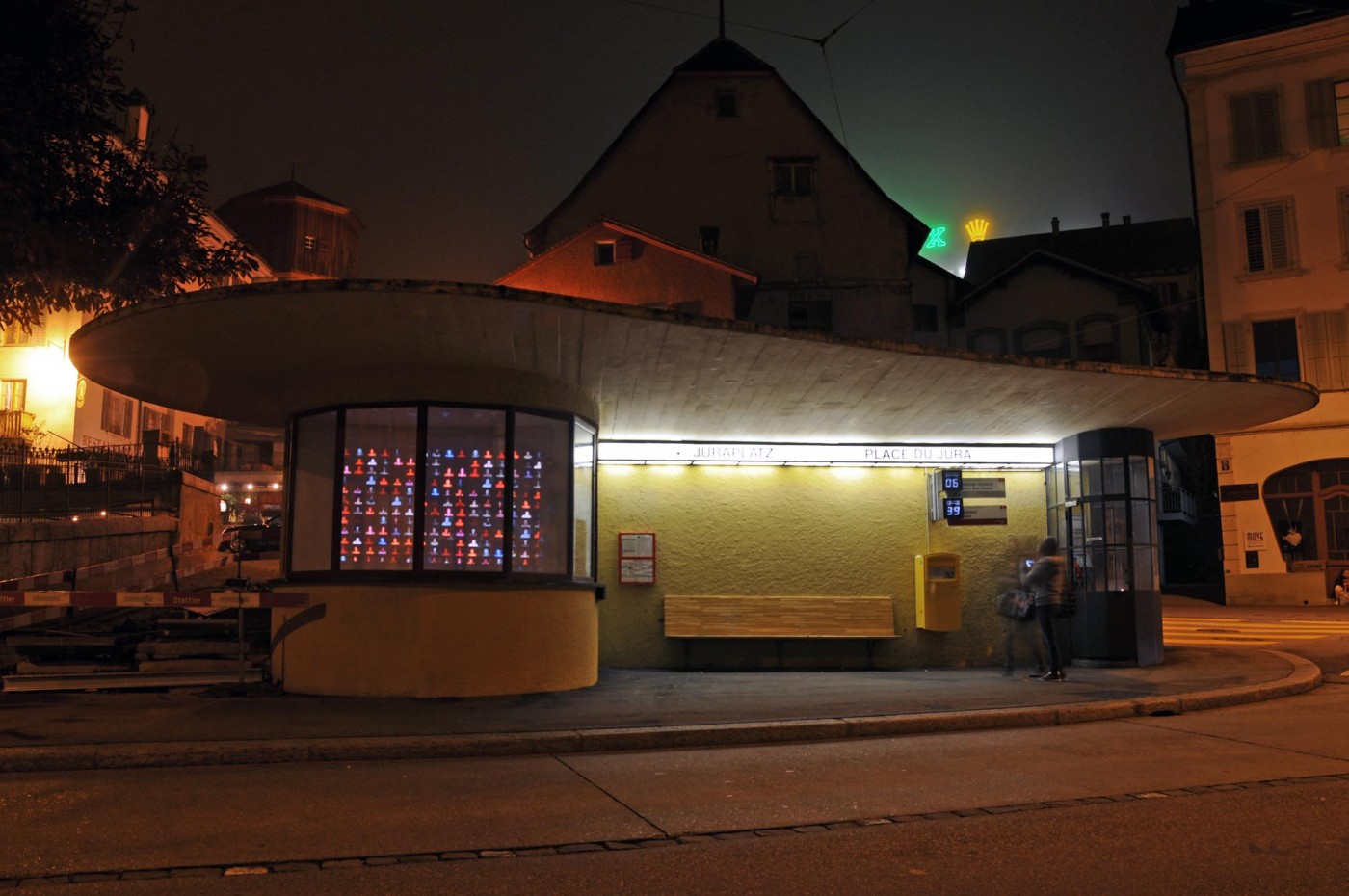 A genuine work in progress, "Zapping" is the product of three years of work collecting sequences recorded using the camera in the artist's mobile phone. The proposed soundtrack is sourced from a mix of five television channels selected by the photographer.
---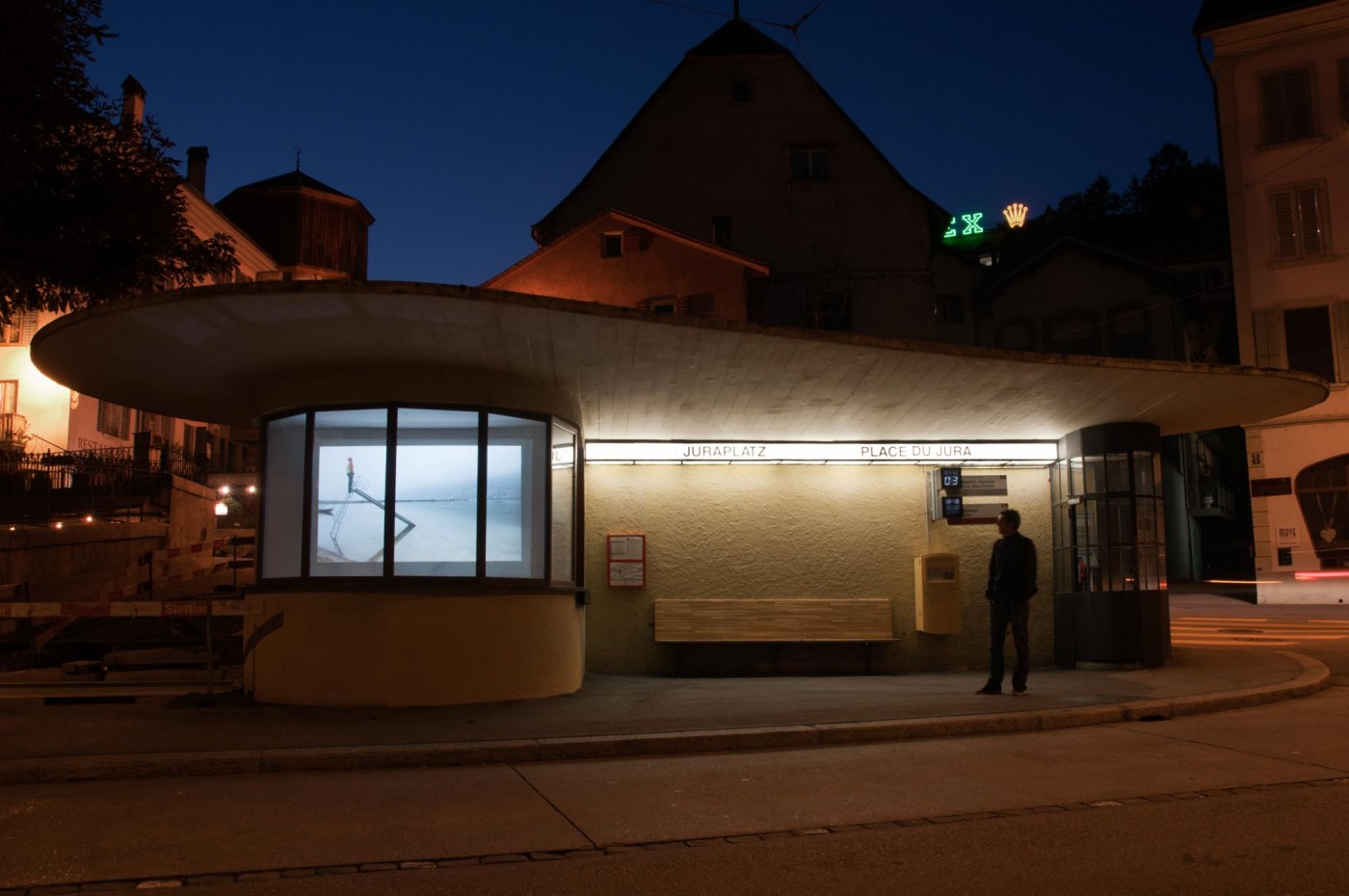 The Nine Dragon Heads Symposium 3PAW (11th to 23rd october 2011) was the first "international environment art symposium" of its kind in Switzerland. susanne muller (artist), Daniela de Maddalena (artist) and Annelise Zwez (art critic) – all experienced Nine Dragon Heads – have organised it on the spot, in virtual contact with Park Byoung Uk – Head of the Heads.
---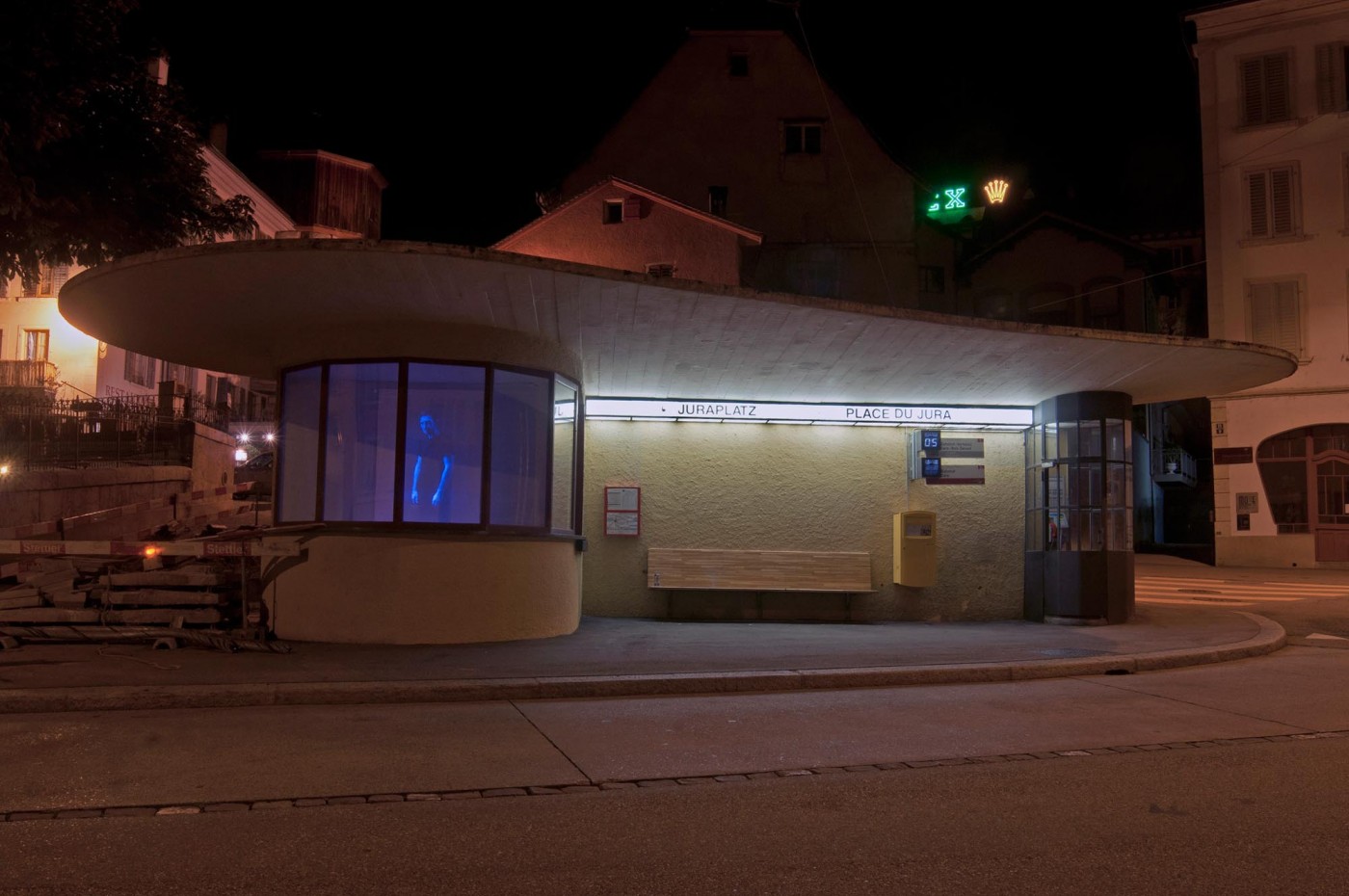 Bieler Fototage 2011 / Le Temps fait son oeuvre
The fifteenth edition of the Biel/Bienne Festival of Photography offers new reflections on the nature of time in contemporary photography. As time does its work, it creates the photographic image. Indeed the role of time is decisive in allgenres of photography, from fashioning the latent image, to its analog or digital "revelation", to viewing the final result.
---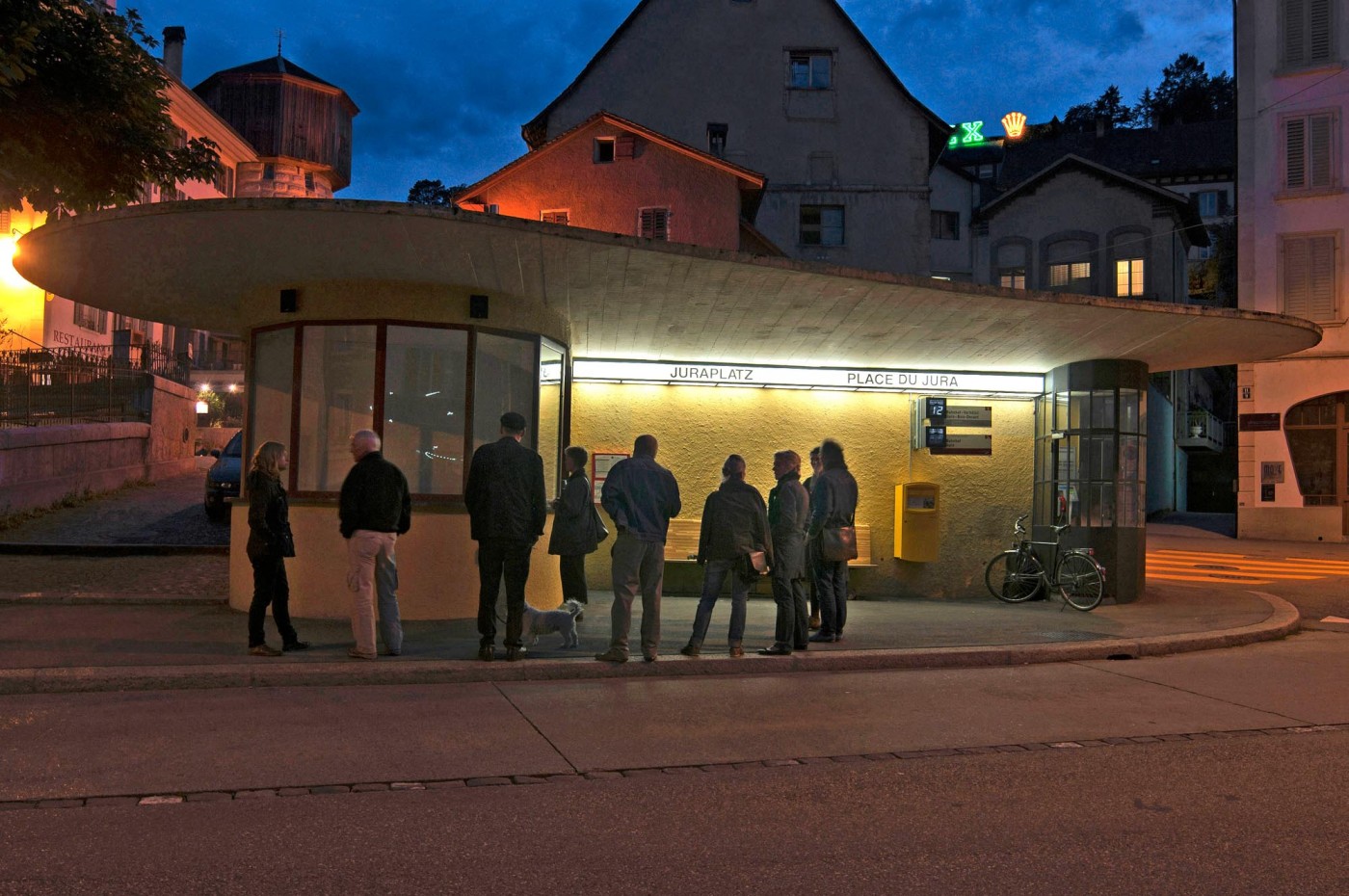 Background — X and Y are invited to participate the Chinese artist Chen Yongwei for a collaboration work.
Materials and Preparation — Small bulbs with batteries connected, attached to the heads, shoulders, hips and hands. Camera and darkened room.
---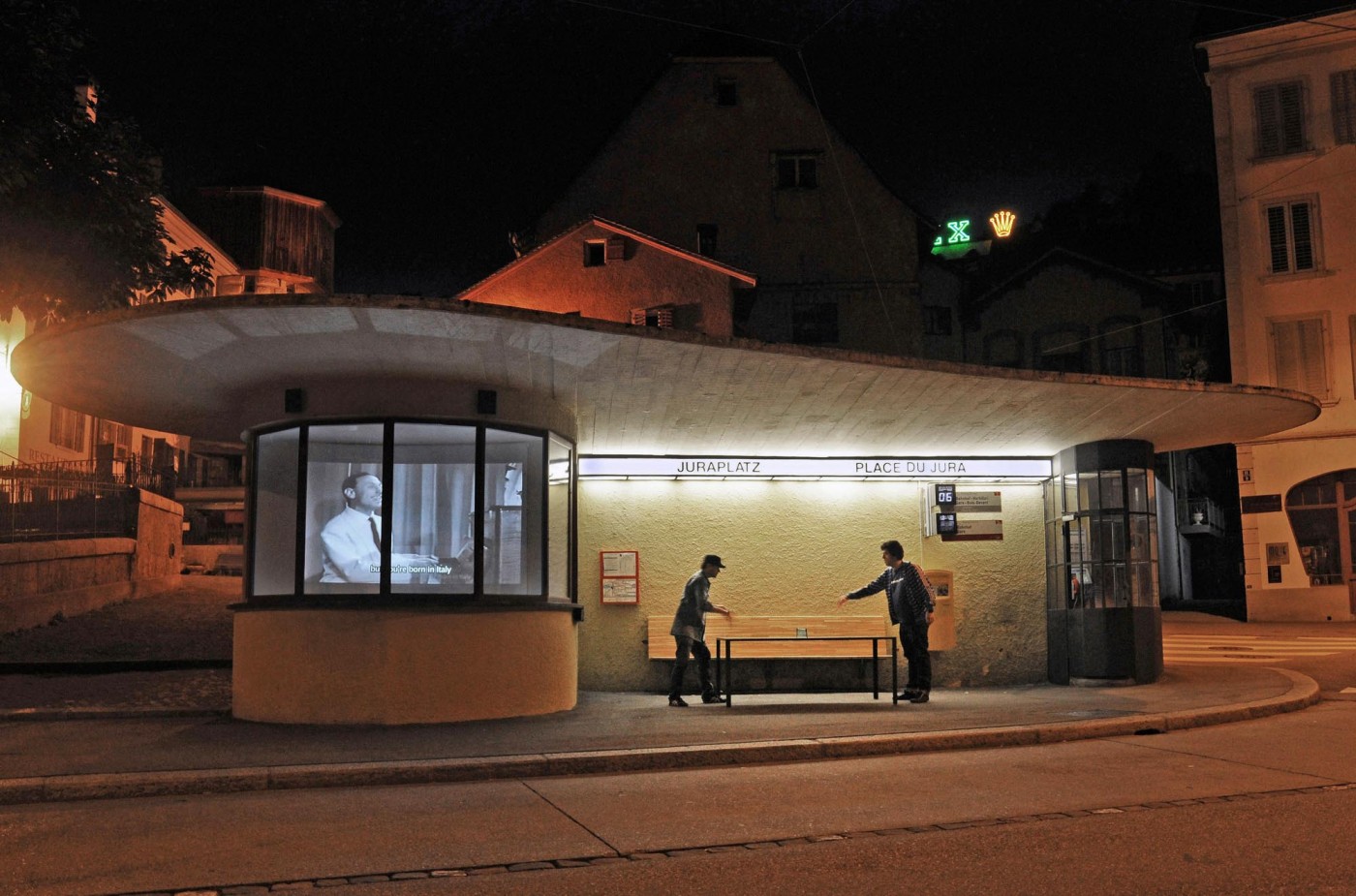 In relation to Dislocation Exhibition, created and curated by Ingrid Wildi Merino, the video I WANNA BE CHINESE / DINGHI –ELECTRIC BICYCLES FROM CHINA from Rainer Ganahl will be presented at Juraplatz.
---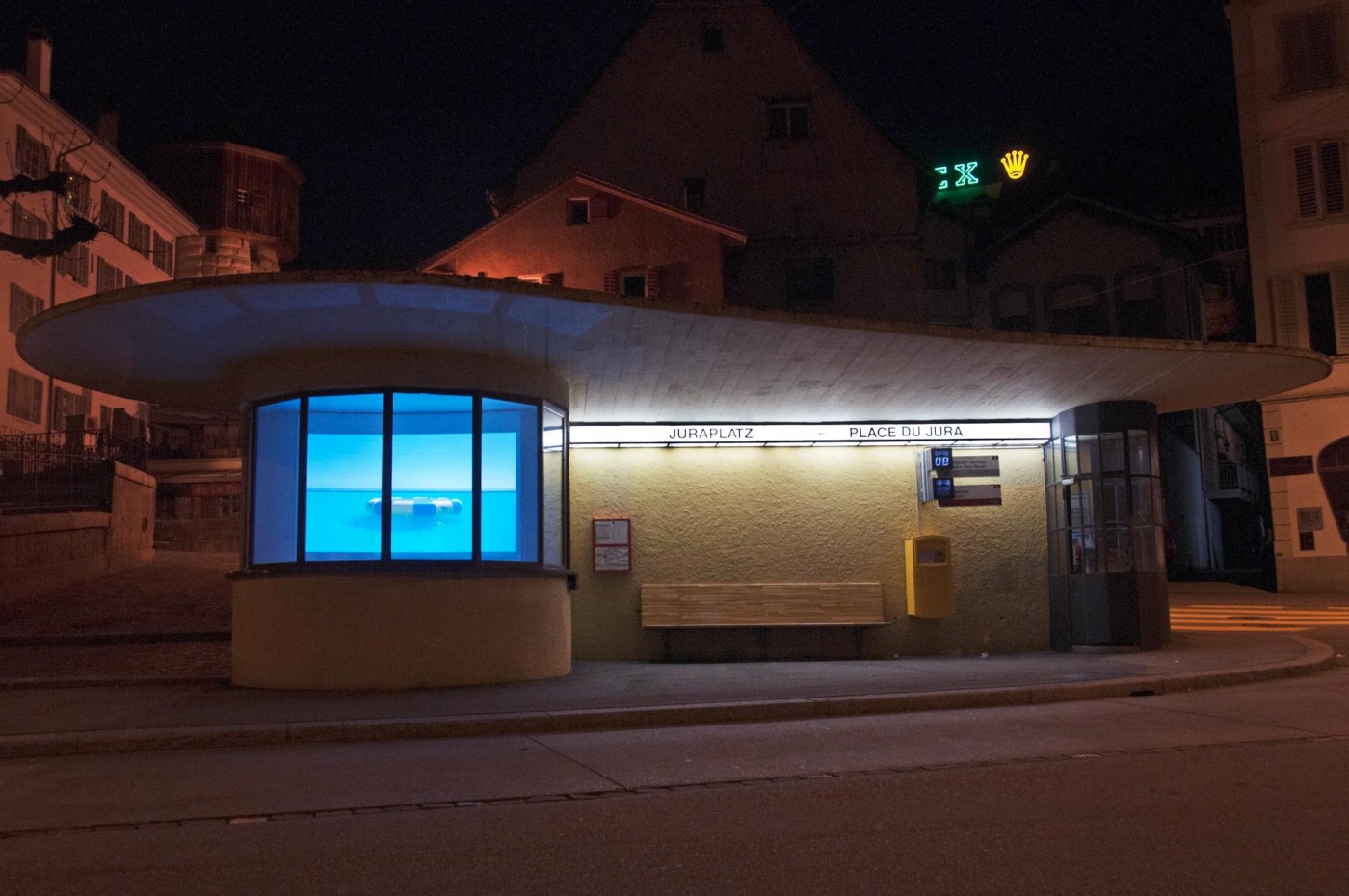 Big Pool is presented at Juraplatz, Biel, as a part of the Exhibition "Dislocation", created and curated by Ingrid Wildi Merino. Big Pool is a video made by Nicolas Rupcich in collaboration with Emilio Marín.
---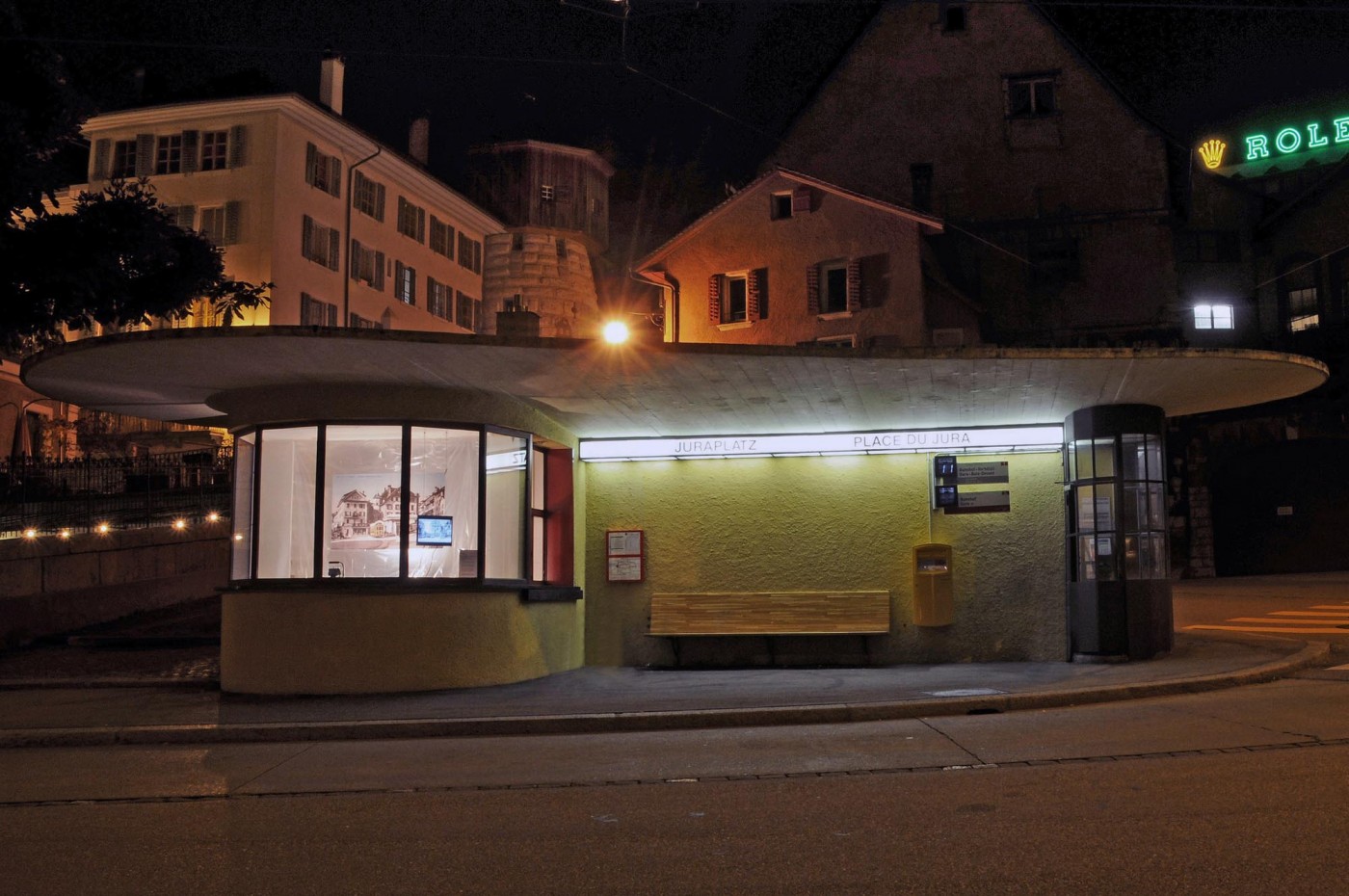 K-Objekt is a photography project by Enrique Muñoz García concerning the renovation of the building that once housed the former Pharmacie du Jura and today's Caritas on the Juraplatz in Biel.
---
JURAPLATZ is a nonprofit independent Public Art Space and works as a satellite for international artists and festivals. Converted into an art-platform from a tram stop dating from the late '30s, it sits in the city of Biel/Bienne, the heart of the Swiss watch-making industry. JURAPLATZ was founded in October 2010 by Enrique Muñoz García and has been hosting important exhibitions.


contact:
Enrique Muñoz García
Untergasse 47
2502 Biel/Bienne
Switzerland
info@juraplatz.ch


supported by: Stadt Biel, Walter Schober